Described by the Sunday Times as a trio which "plays superbly, cleverly balancing transparency and richness", Monte Piano Trio has performed at renowned festivals including SchleswigHolstein, Mozartfest Würzburg, Mecklenburg-Vorpommen, Heidelberger Frühling, Osnabrück, Stift and Constella Festival. Monte Piano Trio has played in Germany, USA, UK, Italy, Spain, Sweden, Austria, Romania, Turkey, Holland and Brazil.
The musicians of the Monte Piano Trio have performed in major concert halls such as Berliner Philharmonie, Laeiszhalle Hamburg, Alte Oper Frankfurt; Wigmore Hall, Royal Festival Hall, Purcell Room, Kings Place, Cadogan Hall and Covent Garden in London; the UNESCO Headquarters Paris, the Romanian Atheneum and Radio Hall, Daning Theater in Shanghai and Teatro del Lago Chile. They have been broadcast on TV and Radio on BBC, CBS, BR, WDR, DLF, SWR, TVR and Radio Clasica.
The Trio has released two CDs on the Genuin Classics label which received many accolades including five star reviews in Fonoforum Magazine, being part of the Klassic Stars program on Bavarian Radio, as well as being chosen as CD of the Month on Stereo Magazine. The trio is featured on the sound track of "Maestro", a documentary film which explores the life of musicians through the eyes of Paavo Järvi.
Monte Piano Trio has had the privilege as Monte+ to give the premiere of the newly discovered first piano quintet by George Enescu in June 2015 at the Enescu Museum in Bucharest. The members of the trio are each Artistic Directors of the following European music festivals: Highgate International Chamber Music Festival in London, MusiKulinarium (Lake Constance) and Kammermusikfest Sylt in Germany.
The Trio was founded in 2008 at the Musikhochschule in Frankfurt am Main (with Anca Lupu until 2012). They won first prizes at the Mirabent Competition in Spain and at the European Karlsruhe Competition in Germany. They are also prize winners at several international competitions including Schumann (Germany), Maria Canals (Spain), Brahms (Austria) and Almere (Holland).
They have received a Diploma with Honors from the Musikhochschule in Essen and then continued their studies at "Escuela Superior de Musica Reina Sofia" in Madrid where they graduated with the highest honors.The Trio has received artistic guidance from distinguished musicians including Menahem Pressler, Günter Pichler, Ralf Gothóni, Dirk Mommertz, Ferenc Rados and Eberhard Feltz.
"The trio has reached the front row level in their field with their profound, refined and highly structured way of playing". FonoForum Magazine
The trio has "a noble sound quality, high sensitivity and great energy". Frankfurter Allgemeine Zeitung
"The outstanding musicians of Monte Piano Trio capture in an extraordinary way the soul of these pieces; they delight their listeners with insightful and vivid interpretations which also exhibit a perfect technical mastery". Rondo Magazine
"An exceptional trio, passionate and perfectly matched. Their playing reveals the meaning and the beauty of the music with the professionalism, freshness and clarity only heard from the very top international groups." Radio Romania Muzical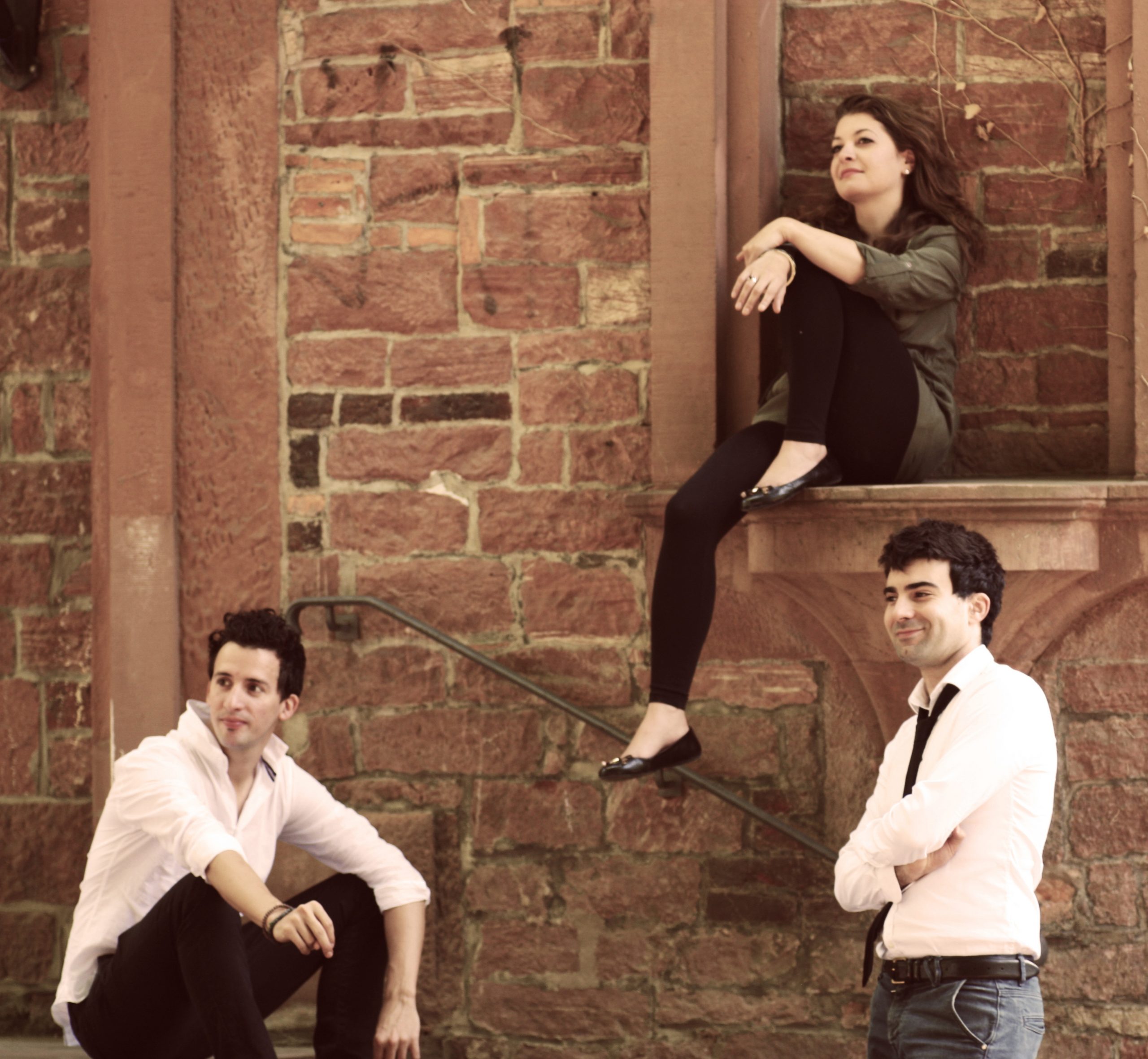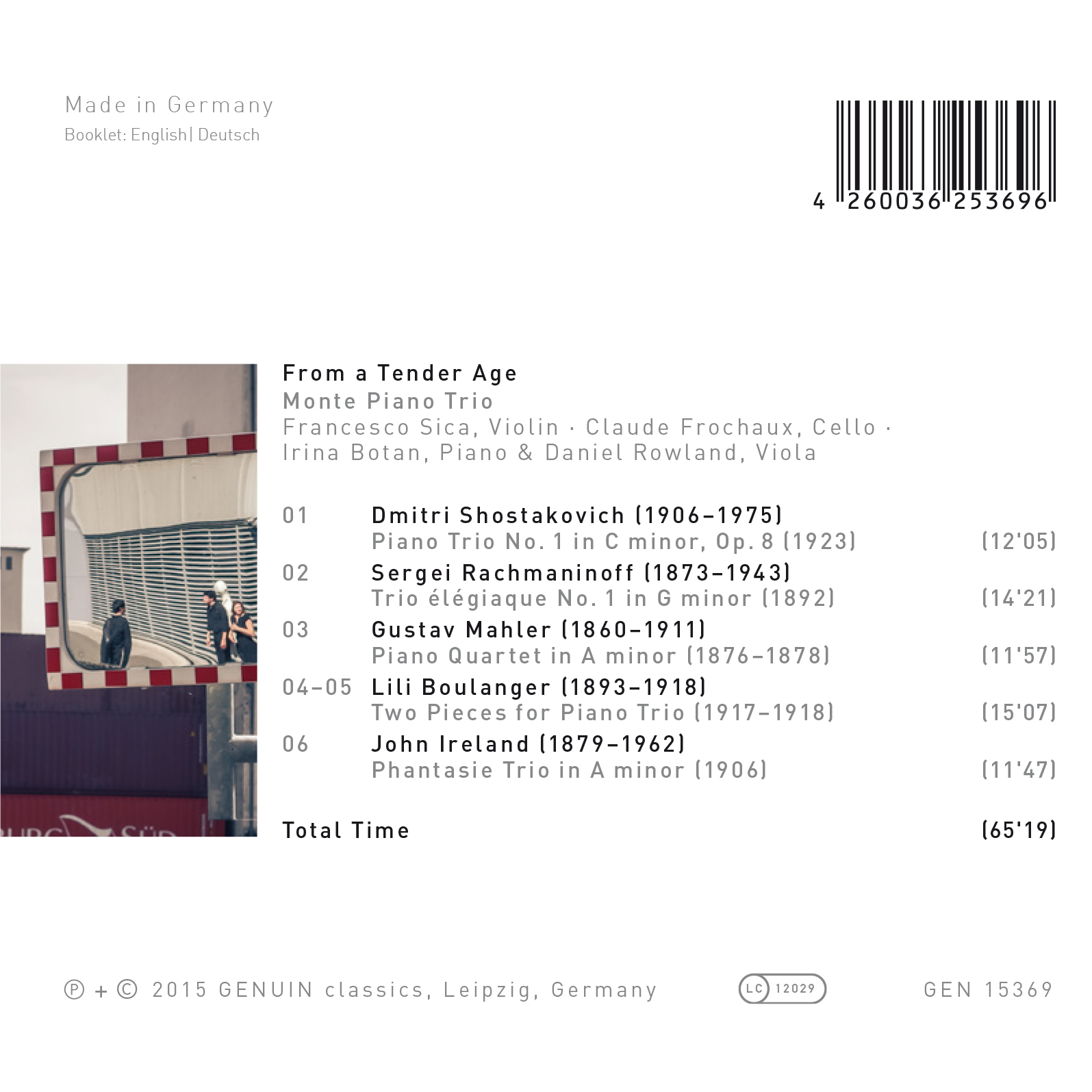 Amy Beach (1867-1944)
Piano Trio in A minor, Op.150 (1938)
Natalie Klouda (*1984)
Piano Trio No. 1 Fantasy Triptych (2014)
Clara Schumann (1819-1896)
Piano Trio in G minor, Op. 17 (1846)
Recorded March 2016
Irina Botan-piano
Francesco Sica-violin
Claude Frochaux: cello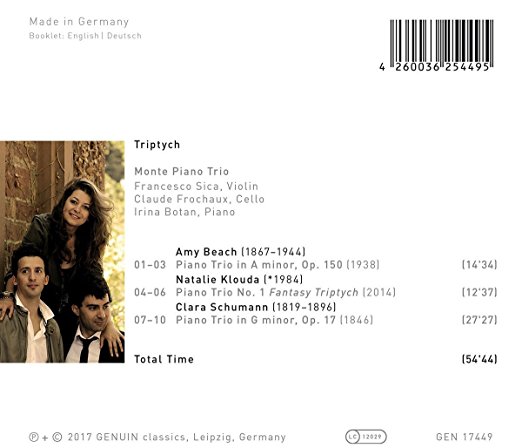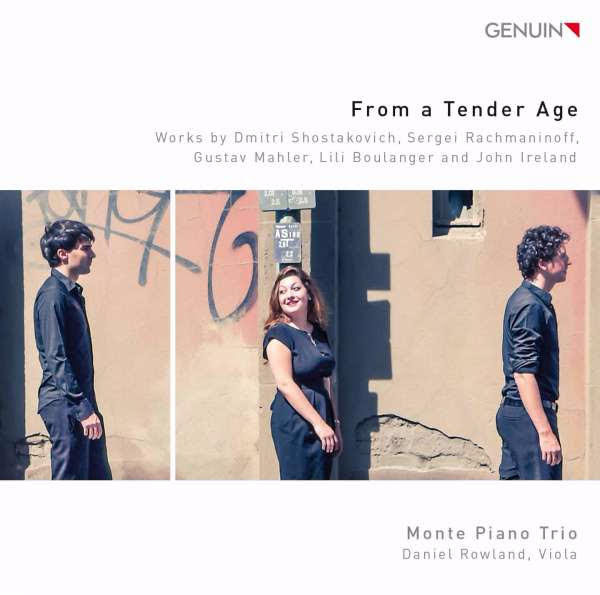 FROM A TENDER AGE
GENUIN CLASSICS
Dmitri Shostakovich (1906-1975)
Piano Trio No. 1 in C minor, Op.8 (1923)
Sergei Rachmaninoff (1873-1943)
Trio élégiaque No. 1 in G minor (1892)
Gustav Mahler (1860-1911)
Piano Quartet in A minor (1876-1878)*
Lili Boulanger (1893-1918)
Deux Pièces en trio (1917-1918)
John Ireland (1879-1962)
Phantasie Trio in A minor (1906)
Recorded March 2014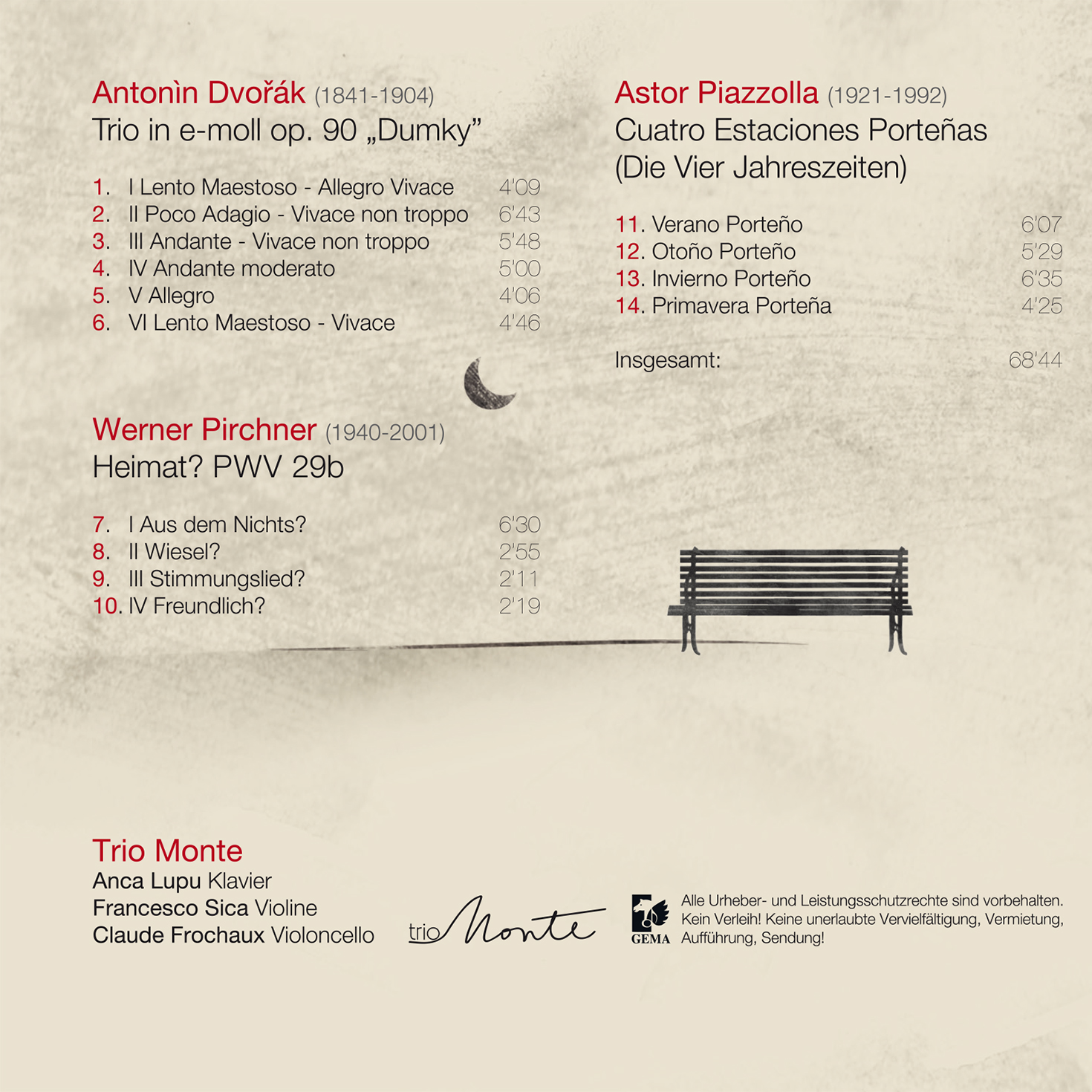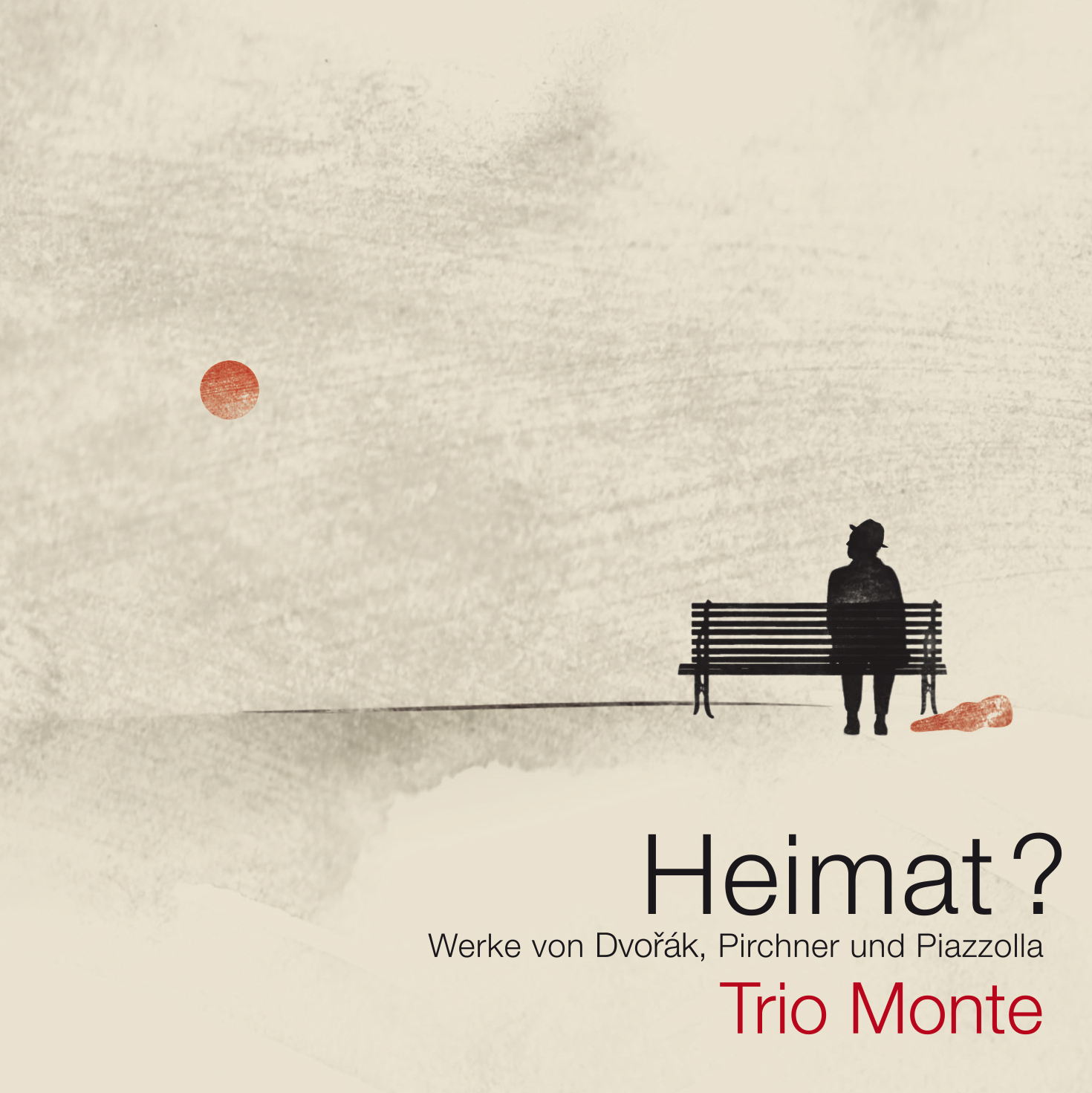 HEIMAT? DVORAK PIRCHNER PIAZZOLLA
Antonìn Dvorák (1841-1904)
Trio in e minor op. 90 "Dumky"
Werner Pirchner (1940-2001)
Heimat? PWV 29b
Astor Piazzolla (1921-1992)
Cuatro Estaciones Portenas
Recorded April 2012
Anca Lupu – piano
Francesco Sica – violin
Claude Frochaux – cello 
For further informations you can fill this form. We will reply as soon as possible.
Thank you.